Site protected by SSL security
Talkback - Nottingham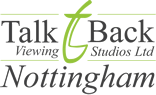 Talkback is located in Queens Road, Beeston, Nottingham in an old factory building, which historically was the home of Humber cycles in Nottingham. The rooms are named after the cycles that were made there; Penny Farthing, Tandem and The Humber.
All rooms benefit from large mill type windows providing a light airy relaxing environment to conduct focus groups, mixing contemporary surroundings within an historic old building.
Discussion rooms are equipped for website usability testing for up to 8 respondents and moderator, via fast broadband internet access with respondents screens relayed on to monitors for observing clients if required.
Clients and Respondents benefit from on site parking (with C.C.T.V.) for 15 cars. There are also numerous surrounding streets with no time limits and no charges.
For further information and directions visit www.talkbackstudio.co.uk